About
December 17, 2017
2023-02-14 13:24
About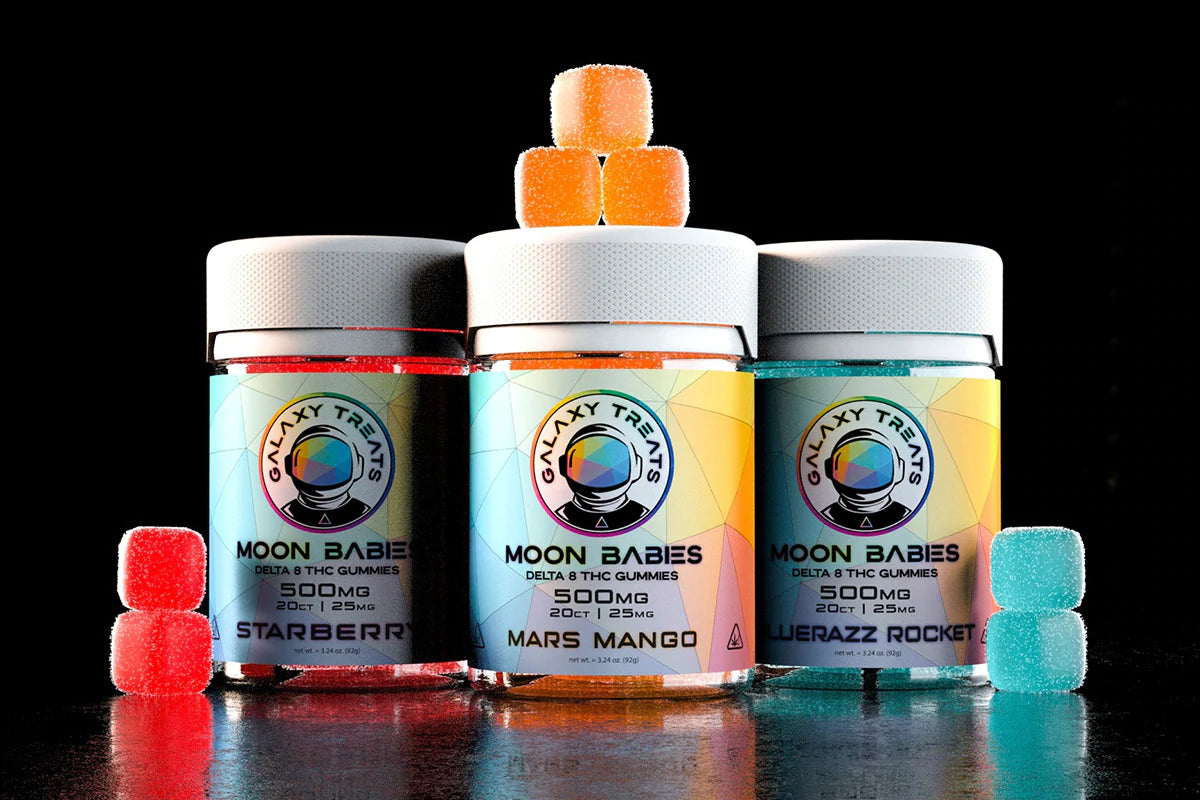 The Leader in Hemp-Derived Edibles
Galaxy Treats is a rare cannabinoids brand offering a premium selection of high-quality, 100% hemp-derived products, including Delta 8 Gummies, Delta 9 Gummies, HHC Gummies, THCO Gummies, HHC Vapes and THCO Vapes!
Our mission is to offer adults a delicious, high-quality and enjoyable way to relax, unwind, and chill with our 100% hemp-derived products, which are available in a wide variety of flavors and cannabinoids. In order to offer the highest-quality experience for our customers, all Galaxy Treats products are manufactured in the United States, third-party lab-tested by an accredited lab, made from industrial hemp, and contain only the highest quality ingredients! The result is what we believe to be some of the highest-quality and best-tasting hemp edibles on the market!
You don't have to buy the whole galaxy, you can buy a few planets and not let a hefty price tag ruin your worry free flight to the moon! Get Ready to Blast Off with the Best-Tasting Hemp-Derived Products in the Galaxy!
My first time trying these, I got the "Starberry" … good flavor and they work great! I will buy again.
Stephen C.
Verified Customer
These are some of the BEST delta 8 edibles I've ever tried. Hands down best quality and flavor. Will definitely recommend!
Aaron C.
Verified Customer
So far of the ones I've tried these are my favorite, the Bluerazz Rocket being the tastiest of the three IMHO.
Michael G.
Verified Customer
I got the Starberry flavor and was perfect texture, shape, and taste. the jar is quality too."
Stephen A.
Verified Customer
Have tried a nice variety of Delta 8 products and the Galaxy Treats are my favorite. Wonderful taste but most importantly for me, they really help with the daily pain from fibromyalgia and arthritis (I'm 64) 1/2 a gummy if I need to be out, but evenings a whole one and I sleep the night. Take on an empty stomach for best relief..and enjoy the mellow buzz in 20 to 30 minutes.
Elizabeth R.
Verified Customer
Very very pleased with this product it has helped me in so many ways will definitely be a regular customer and will refer you to everyone i know! Thank you so so much!
Breann K.
Verified Customer