Galaxy Treats Delta 9 Gummies
Explore the universe with Galaxy Treats Delta 9 Gummies! Available in 2 signature flavors–Berry Melon Lifter and Tropical Kush–each gummy is packed with 10mg of hemp-derived delta 9 THC!
All Galaxy Treats products are made in the United States from the highest-quality, industrial hemp and are third-party lab-tested for potency and purity (view lab reports).
Shop online and enjoy fast, free shipping on all orders over $30!
What are D9 Gummies?
Delta 9 THC gummies are edible confections infused with delta-9 tetrahydrocannabinol (delta 9 THC)–the primary psychoactive cannabinoid found in cannabis and hemp plants. However, delta 9 is also known for certain therapeutic effects, such as helping people with pain, sleep disorders, and lacking appetite.
What's the Difference Between Delta 8 and Delta 9 Gummies?
Delta-8 THC, such as what's found in Galaxy Treats D8 Gummies, is also a cannabinoid found in plants that belong to the cannabis family like hemp. However, delta-8 is an isomer of delta 9 THC, which means it is not quite as potent as delta 9. While both cannabinoids are psychoactive, delta 9 effects are more profound and longer-lasting. According to medical professionals, delta 8 has anywhere from 50 to 80 percent of the psychoactive effect as delta 9. In other words, delta 8 can be intoxicating or cause a high, but not quite as much.
Are Delta 9 Gummies Legal in the United States?
You can find delta 9 THC gummies that have a totally different manufacturing process. Some are made from extracts from cannabis (legally referenced as marijuana), which naturally has high concentrations of delta 9. However, you can also purchase delta 9 gummies that actually adhere to the laws set forth by the 2018 Farm Bill. The former is not legal everywhere, the latter is technically legal on a federal level.
It's important to note that laws and regulations may vary at the state level; therefore you should always check your local or state laws before purchasing or consuming any delta 9 product.
Will Delta 9 Gummies Get You High?
Yes. Delta 9 gummies will no doubt get you high, just as anything that contains delta 9 THC can generate a buzz. Every individual can have their own unique experience with delta 9, depending on things like genetics, tolerance levels, and more. However, one of the primary effects to expect is some level of intoxication. The effects of hemp-derived delta 9 THC will vary from person to person based on a variety of factors.
How Long Does It Take for Delta 9 to Kick In?
Edible delta 9 takes the longest to kick in. The average time-to-effects tends to fall around 30 minutes to an hour, but several factors can affect these numbers, such as:
Metabolism
Age
Weight
How long it has been since you've eaten
Gender
Prior delta 9 use
Any time you use a delta 9 gummy, make sure you give the dose ample time to take effect before deciding that you need more. Because the effects do take longer, you don't want to accidentally consume too much because you assume your first dose was not enough.
How Many Delta 9 Gummies Should I Take?
First, determine exactly how many milligrams of delta 9 are in a gummy. Most products will offer somewhere around 5 to 10mg of THC per gummy. Therefore, you will likely only need to consume one gummy or even half a gummy to feel the effects. For reference, 10mg of delta 9 THC is usually a good dose for anyone looking to experience the euphoric effects. However, if you are totally new to delta 9, it is best to stick with a lower dose of 5mg or less.
The general rule with cannabinoids of any kind, because everyone can have their own unique body chemistry and experience, is to start with the lowest dose possible, see what happens, and then adjust as needed.
Why Choose Galaxy Treats Delta 9 Gummies?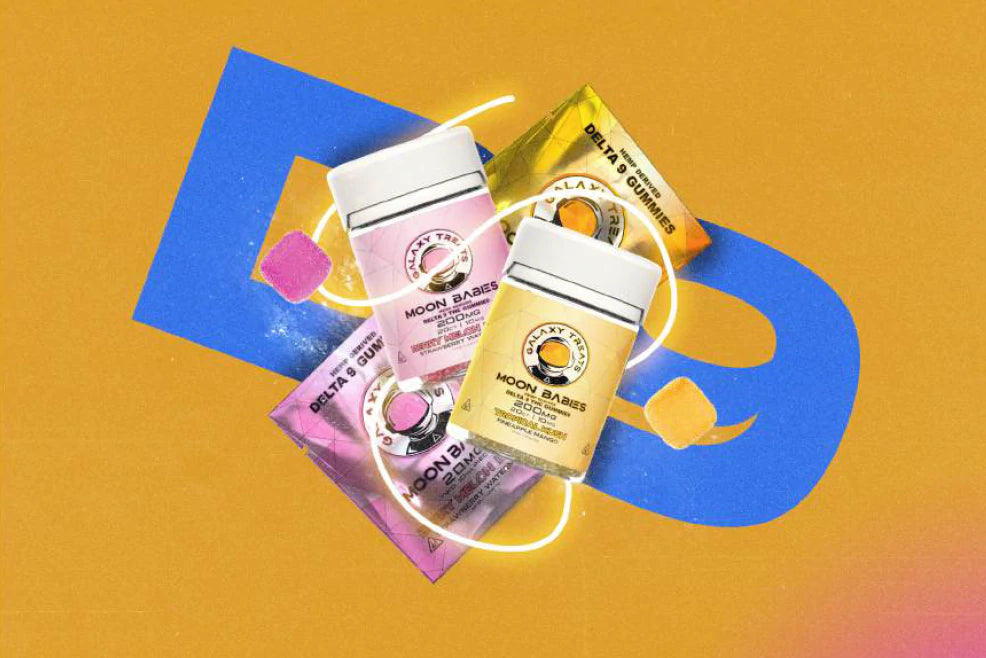 When it comes to shopping for hemp-derived delta 9 gummies, or any cannabinoid-based product for that matter, it's highly important that you only buy high-quality products from a trusted supplier (you don't wanna get caught using marijuana-derived delta 9 gummies instead of hemp-derived delta 9 gummies!). That said, be sure to always check the product's ingredients and lab reports, as well as the company's reputation.
At Galaxy Treats, we take product quality very seriously. All of our products are made in the United States from the highest-quality industrial hemp and are third-party lab-tested for potency and purity.
In addition, our products have been featured in major publications like High Times, Leafly, and Herb, and we have hundreds of positive reviews from real customers.
Don't take our word for it though–try out our Delta 9 edibles for yourself and discover the best Mother Nature has to offer!
Disclaimer: Galaxy Treats hemp-derived Delta 9 THC Gummies products are intended for adult use only. Galaxy Treats Delta 9 Gummies and our other hemp-derived products have not been evaluated by the Food and Drug Administration and are not intended to diagnose, treat, cure, or prevent any disease. Do not use our Delta 9 THC edibles if you are pregnant, operating heavy machinery, sensitive to HHC or other cannabinoids, or are currently using prescription medications. Before trying a Delta 9 product or any other hemp products, be sure to consult with your doctor or a certified medical professional.